Before & After | My DIY Backyard Makeover Reveal!

Hi All! It's been awhile! Time to catch you up on what has been going on around here. After we announced my TV pilot, My Flippin' Friends, and poured all of our energy into promoting it, I had to take a little break from blogging while HGTV aired the show (3 times!). This girl was draaaaained, and after the insanity of flipping and filming the show in secret last Summer, while keeping up with the blog, I figured I earned a little hiatus, you know? If you missed the Instagram story, we found out that HGTV decided not to pick up the show for a full season, but fear not! Our team is back out pitching the idea to other networks, so fingers crossed. Also, I wanted to give a HUGE thank you to everyone who supported and promoted the pilot, it was a crazy, exciting, exhilarating ride, and I am so proud of what we created. I kept my schedule pretty clear this Summer because there was a chance we would be filming, and the time off has been the perfect moment to take a step back from the internet, and spend some much needed stress-free time with my family and friends, which has been absolutely wonderful.  The Today Show did a story on the renovation, so the secret is out: we kept the house because the neighborhood is rapidly changing for the better, and we want to sell the home at it's peek. In the meantime, yup, I am living in the house! (Did I keep that secret well?) When we were filming the renovation last Summer, I had big plans for the backyard, but when we needed to gut the full house, and the interior budget was maxed out, and we had to scrap plans in the backyard. So this year my goal was to finish the backyard and create the perfect oasis to have all my friends and family over for BBQ's (and also up the property value). It's FINALLY done, and I am so excited to share it!

Here is what I was working with….a whole lotta nothing. The house is in the city, and my neighbors houses are uncomfortably close (so close our roofs overlap). It was important to build a fence around the property for safety and privacy. I had my buddy Mike (our contractor/realtor on the show) and his guys build the deck and fence. A few of you asked me if I had a tutorial, but it was a bit too big of a DIY project for me to take on, and I was on a tight timeline because I had a break-in and wanted to property secured ASAP.

I got a couple quotes on landscaping, but after watching a million or so YouTube videos, my friends and I decided to give it a go and do-it-ourselves. Leveling the backyard, edging the perimeter, and laying the sod took 3 labor-intensive days.  We haul about 2 tons of dirt from my truck to the backyard, and around a ton of sod. I was icing my back for days! Let me know in the comments if you want me to go into detail about the sod process, and I would be more then happy to write up another post. One of the hardest decisions was stain colors, I knew I wanted to go grey with the deck, but the fence is where the great debate came into play. I must have tried 15 different samples for the fence, I debated between a warmer cedar wood stain, more grey or white washing. Since there is SO much fence in a small backyard, and I did not want it to feel claustrophobic, I went with whitewash and I'm confident it was the right choice!

On to the fun part: decorating! I partnered up with Lowe's Home Improvement to create my backyard oasis, and I could not be happier with how it turned out. I officially have the backyard that friends pop by, bring their pups to play (that's my Sista's dog, Maggie!), grill for dinner, and hang out by the fire as the sun sets.


I have been posting some sneak peeks on my Instagram, and the most asked questions is: "What color is that door?!" Paint colors can be so hard to choose, and this is one I have never regretted, HGTV HOME by Sherwin-Williams Desert Lake, I just love the pop of color on the black and white exterior.

How amazing is the herb garden?! I am going to go into more detail in my next post because I love it, and gave it a little makeover to fit the color scheme.

These white planters were a steal at $20, I bought 4 and  filled them with Philodendron Selloum and ZZ plants which made the deck feel super lush. I worked with the experts at Lowe's to pick out all the greenery, they were so helpful and knowledgeable. I love plants, but am not great at keeping them alive, so it was a huge help to get advice on what would work best for my outdoor space.

Figuring out the right couch was a bit of a process. I was so excited to assemble the sectional I ordered because I knew the space would start to come together. Well, it was waaaaay too small, and did not give the backyard the cozy, welcoming feel I wanted it to have. So we packed it up and returned it, and I was a little stumped on how to fill the space, while staying in budget. Then came the idea of getting two of this super affordable conversation set, and since all the pieces are separate, I could create the U shaped sitting space I wanted.  It made the backyard the hangout spot I always dreamed of, and after I loaded it up with pillows and blankets, and turn on the fire table (best purchase ever), it's almost impossible to leave.

More photos and credits after the break!

I wanted the landscaping to be minimal and low maintenance, and also match the vibe of the house, so added metal edging around the perimeter, planted boxwoods, and filled the in-between with black mulch. I am excited for the scrubs to grow and fill out the area in front of the fence. Once more idea to add a little more life to all the wood in the yard is the succulent wall. I had SO many pink pots from this shoot, they worked their way into the backyard decor, and added another muted pop of color that brings warmth to the black and white.  The hammock and the lights were finishing touches and make the backyard just so dreamy in the evening. Look at my puppy, Griffin, ruling over his new lawn, ha!
__________________________________________________________________
Now for all the buying details! Scroll over the below photos for links. If you would like to know where any additional items are from, leave a comment, and I will let you know!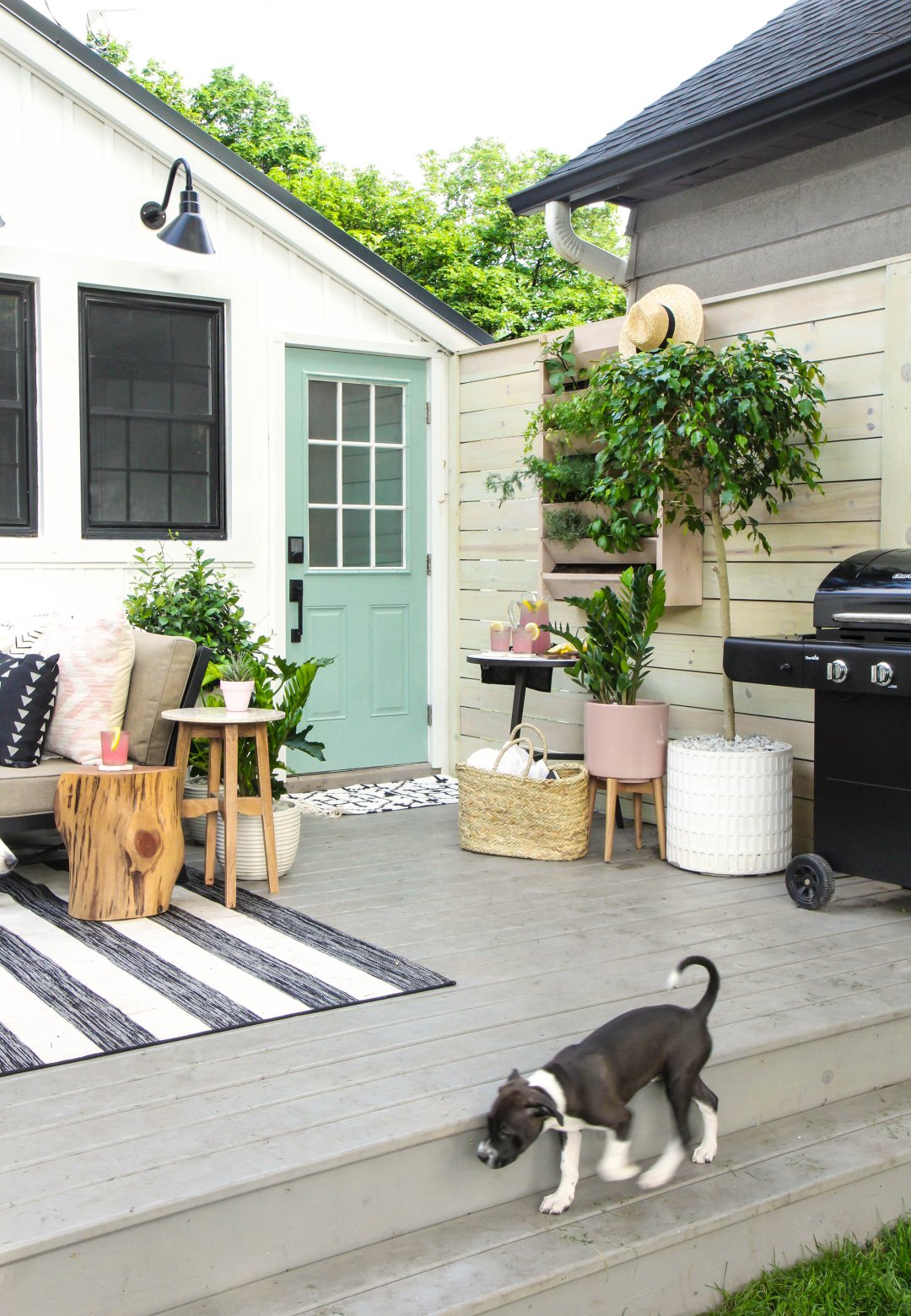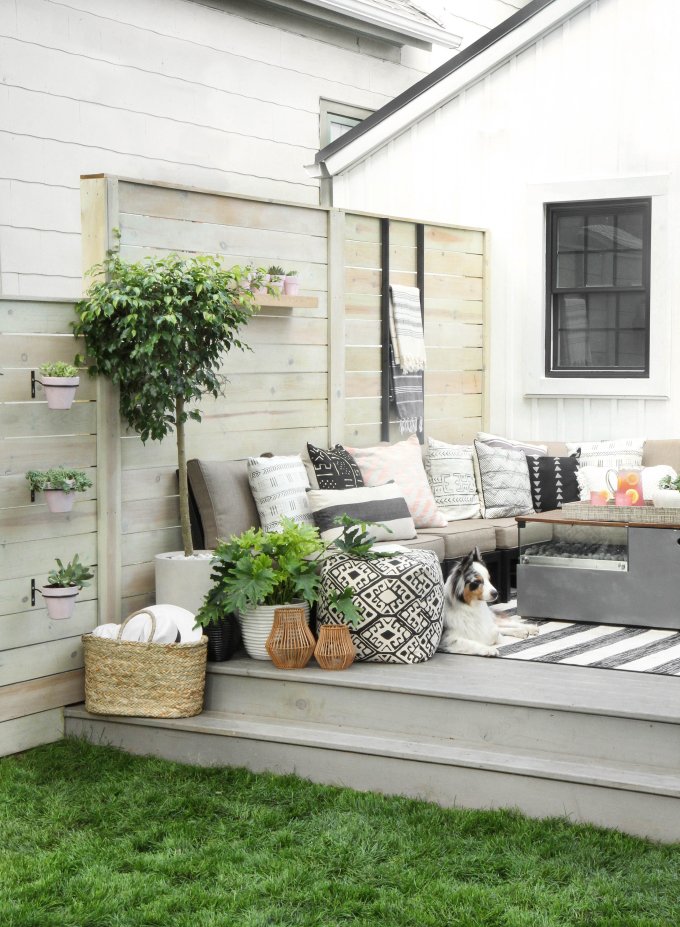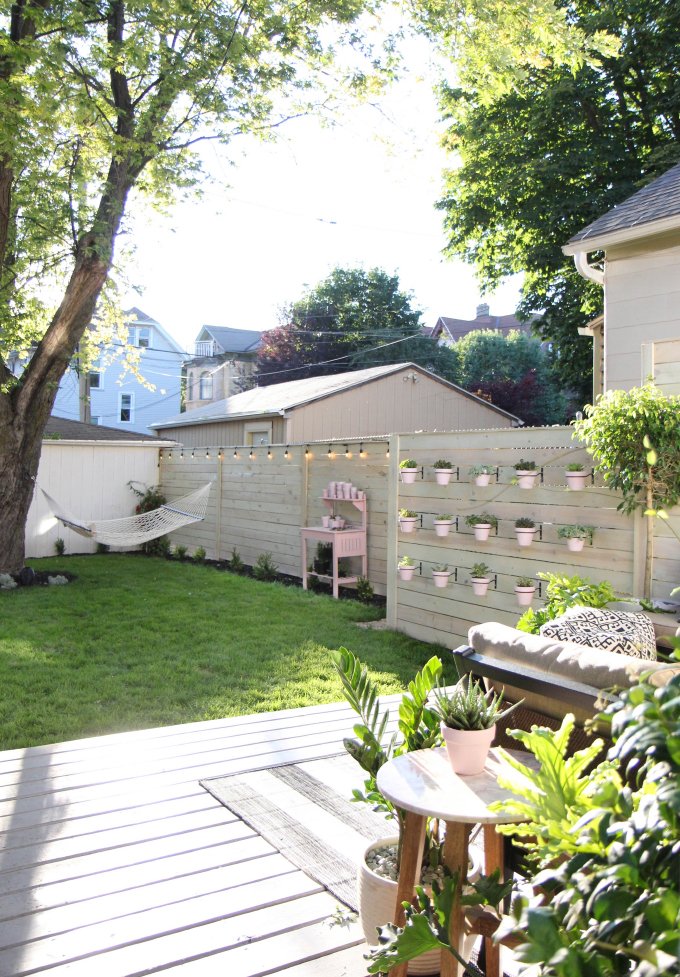 I would love to hear what you all think or any questions!
Thank you to Lowe's Home Improvement for partnering with us on this makeover, and thanks to you all for supporting our amazing sponsors!
---